Week 6: Cy Woods Wildcats vs. Langham Creek Lobos
7:00 PM Thursday, September 29, 2016
Cy-Fair Federal Credit Union Stadium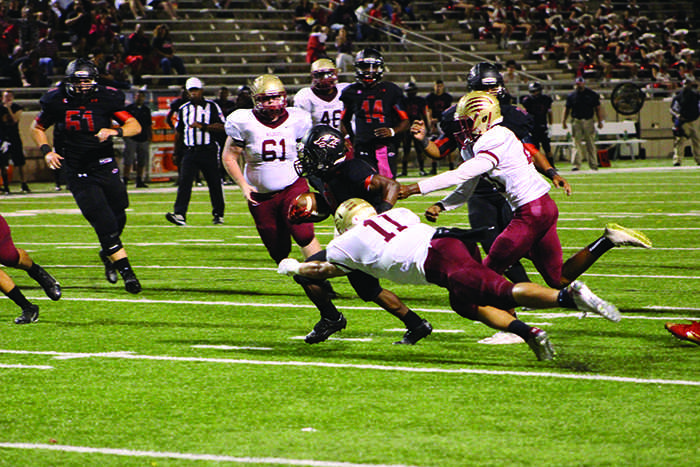 Photo credit: Billy Schuerman, The Crimson Connection
Previously on Cy Woods Football...
On Saturday, in the 100th game in school history, the Wildcats squandered a 31-17 halftime lead to Jersey Village, who flipped the script by outscoring them 41-15 in the second half to come away with a 58-46 victory. Jacob Kainer finished 22-31 for 333 yards and two touchdowns and also ran for 123 yards and three scores. Jack Barrientez caught seven passes for 116 yards and a touchdown. On defense, Myles Wilson recorded five tackles and recovered two fumbles, returning them (or one of them) for a total of 42 yards.
No doubt, they let that game get away. However, a short week gives them a chance to get back to work and minimize the time spent wallowing over the loss. The Wildcats will kick off Week 6 with a crucial matchup against a Langham Creek squad that is currently in a three-way tie at 2-1. This will be a chance for them to close out the first half of their schedule on a positive note, and also a chance for them to muddle up the early playoff picture in District 17-6A.
The Enemy: Langham Creek Lobos
2015 record: 5-5, 5-4 (6th) in District 17-6A
Did not qualify for playoffs
Langham Creek season-to-date
W 29-28 @ Klein Oak
W 54-20 vs. Cy Creek
W 22-14 @ Cy Falls
L 23-17 vs. Cy Ridge
All-Time Series
Cy Woods leads 5-3.
Previous Meetings
October 16, 2015: Woods 48, Langham 33
October 17, 2014: Langham 55, Woods 31 (Homecoming VII)
September 13, 2013: Langham 48, Woods 20
September 14, 2012: Langham 32, Woods 31 (Homecoming V)
October 14, 2011: Woods 50, Langham 44
October 15, 2010: Woods 55, Langham 27 (Homecoming III)
October 31, 2009: Woods 42, Langham 7
November 1, 2008: Woods 58, Langham 20
(A few) Players to Watch
RB Toneil Carter, QB Jacob Walls, QB Kacey Pryor, WR Chase McCray, WR Praise Okorie, DL Chidi Ogbonnaya, DL Isaac Salazar, LB Corien Azema, LB David Eggleton, DB Jordan Murray, DB Darren Woodson, DB Noah McGee
2¢ on Langham Creek
Langham Creek entered 2015 as the defending district champions, and they had the talent to repeat as champions. Unfortunately... an 0-4 start destroyed those ambitions, and even though they went 5-1 in their final six games, the damage from that awful start was too much for them to overcome.
Since Coach Thompson has taken over, the Lobos' reputation has been built on an explosive offense; guys like the Juergens brothers (okay, they were in the previous era), Conner Feist, Dominique Harris, Quartney Davis, and a host of others have put up gaudy numbers in their frenetic system.
The centerpiece of this offense is Toneil Carter, a four-year letterman, one of the most coveted high school football players in the country, and the face of Langham Creek football. Toneil enters the week a mere 9th in rushing yards, but there's no denying that he is a truly special talent who can carry this team to a victory if need be. The Lobos have a platoon at quarterback with Kacey Pryor and Jacob Walls. Pryor was a defensive back last season and is the runner, while Walls is more of a packet passer. Both have been efficient in throwing the ball; Pryor has yet to throw an interception in 44 attempts this season. The platoon isn't necessarily performance-based, because the two of them have made the most of their opportunities.
Langham has had a solid pipeline of wide receivers, and the torch has been passed to Chase McCray and Praise Okorie. McCray leads the district in receptions and is third in receiving yards, while Okorie is fourth in receiving yards and third in yards per reception among players with more than 20 catches.
The Langham defense enters this matchup allowing the third-fewest yards per game, and Coach Thompson is extremely high on this unit, especially along
the defensive line
. Ogbonnaya provides an imposing presence, and Salazar has really come on as a playmaker in the trenches. David Eggleton leads a deep linebacker corps, and he'll team up with Brad Pinkerton, Jermaine Wright, and an emerging sophomore in Corien Azema.
The Lobos lead the district with six interceptions. Azema, Eggleton, and Pinkerton all have one, and Jordan Murray, their quarterback in the secondary, is one of six players in the district with two picks. Noah McGee, Darren Woodson, and Paul Darks round out a talented secondary.
Last Time These Two Teams Met
In a game featuring two teams with dwindling playoff hopes, the Wildcats kept theirs alive with a 48-33 victory, breaking a three-game losing streak to the Lobos.
Bryson Powers ran for 160 yards and two touchdowns and threw for 156 yards and two touchdowns, both of which went to Jordan Johnson. C.J. Jones ran for 174 yards and two touchdowns and also returned a punt 57 yards for a touchdown.
Sub-Varsity Game Information
Since the varsity plays on Thursday, the sub-varsity teams play tonight. The freshmen will play at Cy Woods, while the JV will travel to Langham Creek. Game times are at 5 and 7.
Location of Langham Creek High School